A trusted business advisor...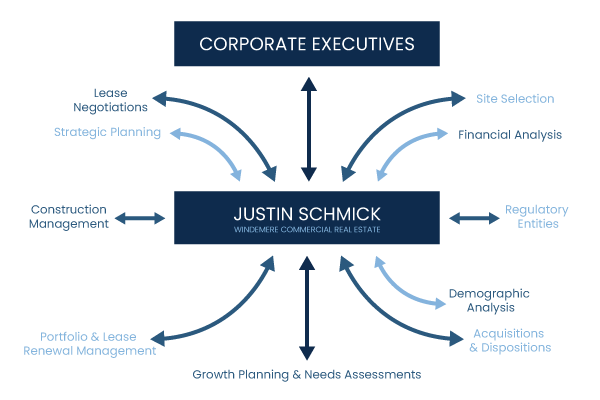 Justin Schmick's corporate services are catered to mid size and small companies that are not big enough to employee a full time real estate department, but large enough where it is not cost effective to have upper management and company executives spending valuable time dealing with the real estate component of their business. As a trusted advisor, Justin Schmick can help leading local and regional organizations re-define their facility requirements, identify new market opportunities, strategize for future growth and reposition themselves as market leaders.
The purpose of Justin's corporate services is not to take the decision making process away from his clients, but to be responsible for the planning, follow through and execution of the corporate strategies his clients wish to pursue.
Services include:
Site selection
Lease negotiations
Portfolio management
Lease renewals - a better lease at your current location
Acquisitions
Dispositions
Construction management
Build-to-suits
Facilities programming
Strategic planning
Demographic analysis and mapping
Economic incentive packaging
Financial analysis
Market surveys
Subleasing
Lease versus purchase analysis
Sale lease backs